5 Reasons to Surprise Dad With a Smart Garden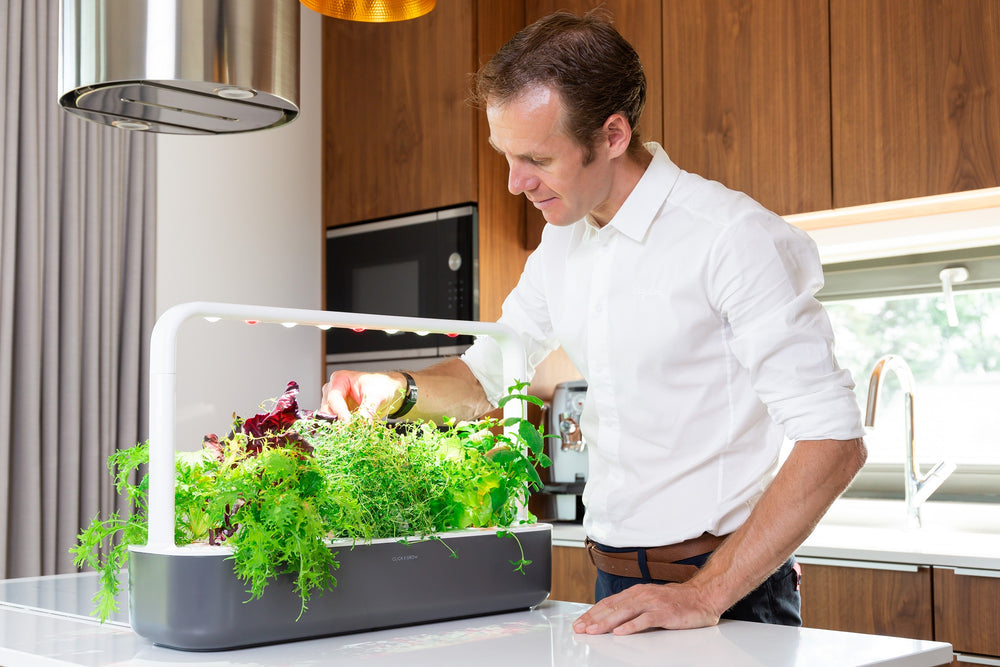 Searching for something meaningful to give dad? A Click & Grow Smart Garden could be just what you're looking for! It's super functional and stands out among any other gift. Here are just a few reasons why we think he'll love it...
1. It will boost his health
When it comes to eating healthily, owning a smart garden can be a game changer for dad. Fresh homegrown greens are super nutritious. In fact, it's recommended that an adult's weekly diet should include 1.5 cups of any dark green vegetable along with 4 cups of other green vegetables. It's no surprise considering they're full of nutrients and help cover for vitamin, mineral and antioxidant deficiencies. A smart garden makes it easy for dad to grow powerful greens such as chard, pak choi, leaf mustard, romaine lettuce, mibuna and many more.
2. It's long lasting
A smart garden is a gift that keeps on giving, built to last for years. Unlike many cliché Father's Day gifts, the smart garden is something dad would not have expected. It's novel and shows you've put some thought into what you'll get him. In several years' time when other gifts have been forgotten, you'll be happy to see he's still using the smart garden you gave him! With a plant subscription, he can ensure he's never without plants to grow. There's plenty of time for him to explore different types of indoor gardening - whether it's growing certain plants for recipes, tea or even meditation.
3. It will unleash his inner chef
Now that dad's growing the freshest herbs around, he'll have all the more reason to cook some delicious recipes with them. Adding a few carefully chosen herbs to a meal can instantly elevate its taste and turn it into a memorable experience. We have an extensive selection of fruits, greens and herbs to choose from with new plants being added regularly. With our plant subscription, dad can enjoy a year's supply of plants that appeal to him. 'Compliments to the chef!', they'll exclaim. The smart garden will let dad take the credit. 
4. It will lower his stress levels
Whether dad likes to admit it or not, he experiences stress too. Plants have been proven to help reduce stress. In fact, according to papers such as this one, plants can help boost several areas of life. This includes our social, physical, psychological, cognitive, environmental and spiritual well-being. Does dad work in an office? Research indicates that indoor plants can reduce office worker's stress. It was suggested that having a small plant on the desk and looking at it for a few minutes could help lower stress levels. Why not get dad a smart garden for his home office or work office? With a Smart Garden 3, Smart Garden 9, or a Smart Garden 9 Pro, he can easily grow plants on his desktop, shelf, filing cabinet or office windowsill. In addition to edible plants, Click & Grow has a wide variety of decorative plants to spruce up his space.
5. It's a stylish addition to his man cave!
Every dad needs some 'me time' in a space of their own. Smart gardens feature contemporary, sleek, nordic design that looks incredible with any decor. It's not just plants that make a smart garden stylish. The garden's LED lamp also adds to its visual appeal by emitting calming, ambient light. While helping plants grow, the smart garden will add a calming glow to dad's room. 
Back to all posts