Click & Grow 25 Kickstarter: All You Need to Know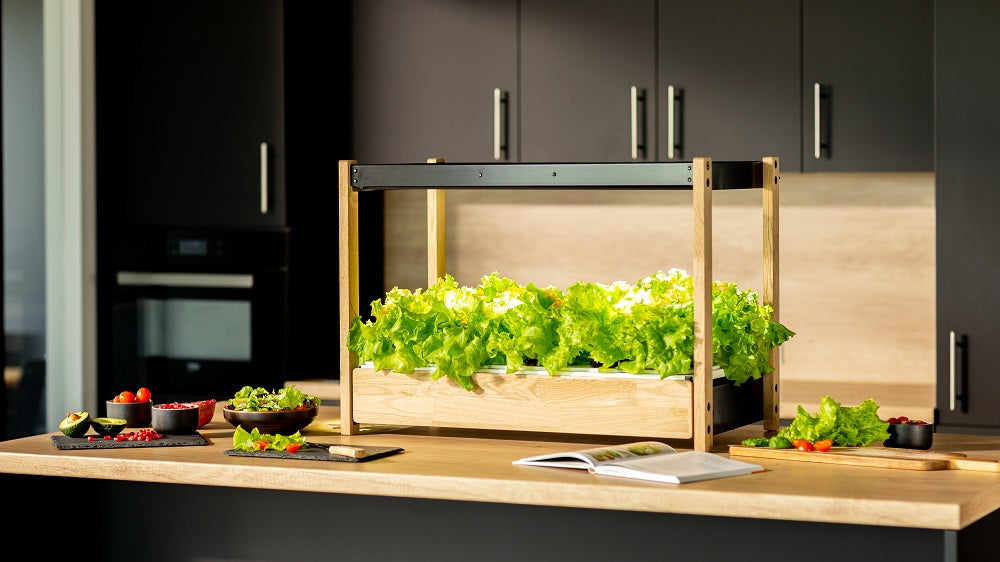 The wait is almost over! The much-anticipated Click & Grow 25 will soon be here. Just like we've done with our previous smart gardens, the Click & Grow 25 will be launching on Kickstarter as well. Here's why we're so excited about our newest smart garden and what you need to know about the upcoming campaign:
Grow food 10x more efficiently
The Click & Grow 25 is designed to help you enjoy a continuous supply of fresh greens with almost no effort at all. We learned from community feedback that, while it's possible to grow greens in a continuous cycle with our larger units, this can be a hassle to plan for. The Click & Grow 25 solves this problem by featuring a unique tray system, allowing you to easily grow plants in rotation based on their life cycles. This ensures you always have plenty of greens to harvest and enjoy at home. You can create a continuous cycle by harvesting a tray of 5 grown plants and then simply adding some new pods. The tray also makes it super easy to carry your leafy vegetables to wherever you happen to be cooking or eating. Plants remain fresh for a full week after being removed from the garden. 
The Click & Grow 25 enables you to grow food 10x more efficiently than with any other indoor gardening solution available today. It's also the most energy efficient and space efficient indoor gardening solution on the market. You'll be pleased to hear it features the highly convenient, automated watering and lighting technology synonymous with all of our products!
Give your body the nourishment it needs
Experts suggest eating at least 2 to 3 cups of vegetables and leafy greens per day. With the Click & Grow 25, you can easily achieve this and more. It's the only indoor home gardening solution able to produce a sufficient harvest to consistently support a healthier diet. 
You can enjoy your produce with peace of mind knowing that it's free from GMOs, herbicides, pesticides or any other harmful substances. This is possible thanks to hundreds of experiments and extensive research we carry out on everything from plants to fertilisers. Each plant pod contains nutrients that are exactly calibrated to support the growth of each plant species.
Sign up today
If you're excited about the Click & Grow 25 and the future of food growing, we encourage you to back us on Kickstarter! By signing up, you'll be the first to receive launch news as well as having guaranteed access to our early bird offer on Kickstarter - 40% off the Click & Grow 25 retail price. The reservation fee is only €1 and you are not bound to any commitment whatsoever. Thank you so much for believing in what we do. Together, let's try to break some more records on Kickstarter!
For more information and sign up details, click
here
.
Back to all posts