Gardener of the Month - Featuring Darrin from Singapore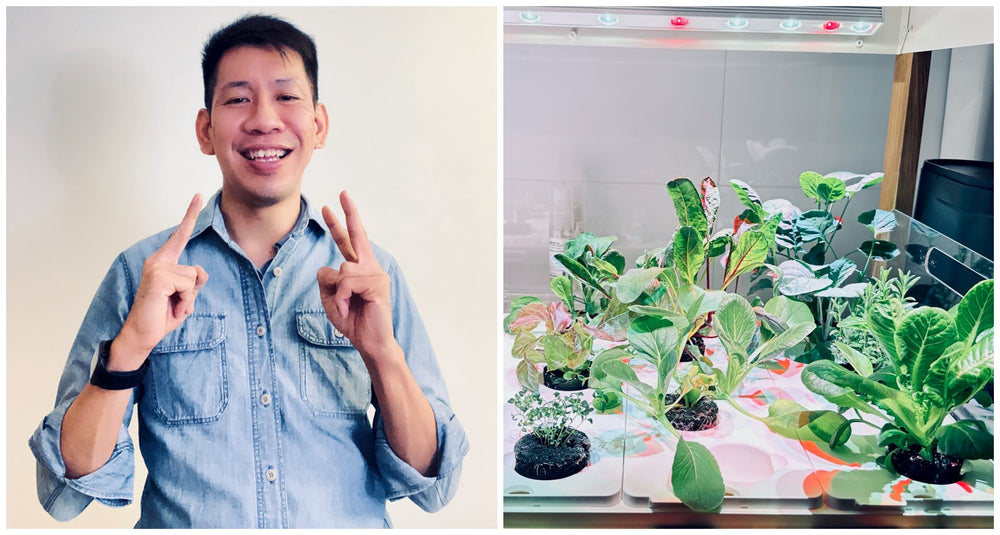 Meet Darrin, our gardener of the month from Singapore! He took a moment to talk to us about the value of gardening and growing his own food.
Hi, Darrin! What does gardening mean to you and what role does it play in your life?
To me, gardening is taking the time to nurture a seed and watch it grow. It brings immense joy and calm to see each seed come to life, sprout and grow. 
When did you start growing with us and what's been the highlight of your indoor gardening journey?
I started growing with Click and Grow in 2018. I never had green fingers until Click and Grow came along. I was thrilled when the first seed I planted in my Smart Garden 3 started sprouting. I can still remember that it was a basil plant which I later used to make pesto. 
What are your favorite plants to grow and why?
I love growing leafy vegetables such as the different varieties of lettuce and pak choi. Recently, I found two new plants which are fast becoming my favorites - leaf radish and leaf celery.
What are your 3 favorite dishes to make using your homegrown harvest?
My favorite dishes are mushroom rice bowl with fresh romaine lettuce, open-faced cheese and roast chicken sandwich with different lettuces and roast chicken with thyme.
What advice would you give new growers?
My advice to new growers is just have fun growing and experimenting!
Thanks, Darrin, for talking to us about your indoor gardening journey.
Stay tuned - next month we'll be featuring another gardener chosen by our Facebook community!
Explore more:
All images by Darrin
Back to all posts