Make The Most Of Your Smart Garden With Our New Accessories Line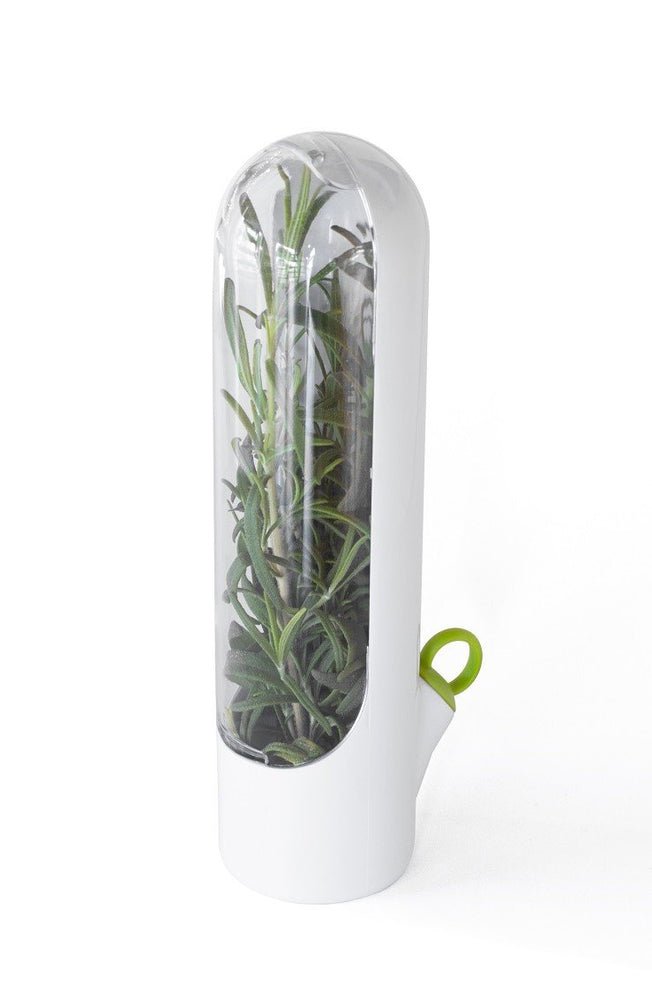 Home gardening is so much more than simply owning plants. It has grown to become a soothing, fulfilling experience for people of all cultures. Through the tranquility of gardening, we strengthen our connection to Nature and to each other.
Here at Click & Grow, we believe everyone deserves to experience the joys of growing plants at home. Our aim is to provide you with everything you need to make gardening a holistic, positive experience.
Our products empower you to easily grow your favorite plants, harvest them and store them.
Whether you love growing plants as a means of stress relief, as a fun hobby, or to consume the healthiest greens, our accessories line has something for you.
Accessories for treating yourself or someone special
Herb Saver - Triple the Lifespan of Your Herbs
Ever wondered how to store your freshly harvested herbs so their taste and aroma remains intact? Here's the answer. Our beautifully designed herb saver is both practical and efficient. The ideal storage for Click & Grow herbs.
Ideal for chives, cilantro, parsley, thyme, rosemary, sage and many other herbs
Prolongs the life of herbs for up to 3 weeks
BPA-free plastic shell
100% dishwasher safe
Fits in all standard refrigerator doors
Plant Lover T-shirt (Unisex)
Elevate your style with our trendy Plant Lover T-Shirt. Its simple design complements almost any outfit. The print, "Introverted, but willing to discuss plants" shows your lighthearted side and is bound to put a smile on people's faces!
Made from fine jersey cotton
Extremely soft and comfortable to wear
Durable, stands up to multiple washes
Click & Grow Tea Cup
With it's sleek design and iconic Click & Grow font, this tea cup will soon become a new favorite in your collection. Also features the print, "Introverted, but willing to discuss plants". Use this cup to enjoy freshly brewed tea from Click & Grow herbs.
Dishwasher safe
Microwave safe
Size: 15 oz
Gardening Journal: The Mindful Gardener
The must-have journal for every keen gardener. It includes writing exercises, inspirational quotes and simple tutorials designed to help you approach each day with a calm, positive mindset. The perfect companion whenever you're looking for moments of mindfulness!
Authors: The New York Botanical Garden, Rachel Federman
Accessories for your Smart Garden
Smart Garden 3 Extension Arm
Need to extend your Smart Garden 3's lamp? This extension arm will do the trick.
1 piece
Compatible with Smart Garden 3
Smart Garden 9 Extension Arms
Everything you need to extend the lamp on your Smart Garden 9.
1 pair
Includes one piece with a cord slot and another piece without a cord slot.
Compatible with Smart Garden 9
Smart Garden 3 Float
Spare water level indicator float for your Smart Garden 3.
1 piece
Compatible with Smart Garden 3
Smart Garden Plastic Cup
Spare plastic cup
1 cup
1 U-shaped lid
1 dome
1 water transmitting wick.
Compatible with Smart Garden 3, Smart Garden 9 and Wall Farm
Water Transmitting Wicks (9 pcs)
Spare water transmitting wicks
9 wicks
Compatible with Smart Garden 3, Smart Garden 9, Smart Herb Garden and Wall Farm
Smart Garden Domes (3 pcs)
Spare transparent germination domes
3 domes
Compatible with Smart Garden 3, Smart Garden 9 and Wall Farm
Be sure to check out our full accessories page
HERE
Back to all posts