How to Plan a Summer Herb Garden with Click and Grow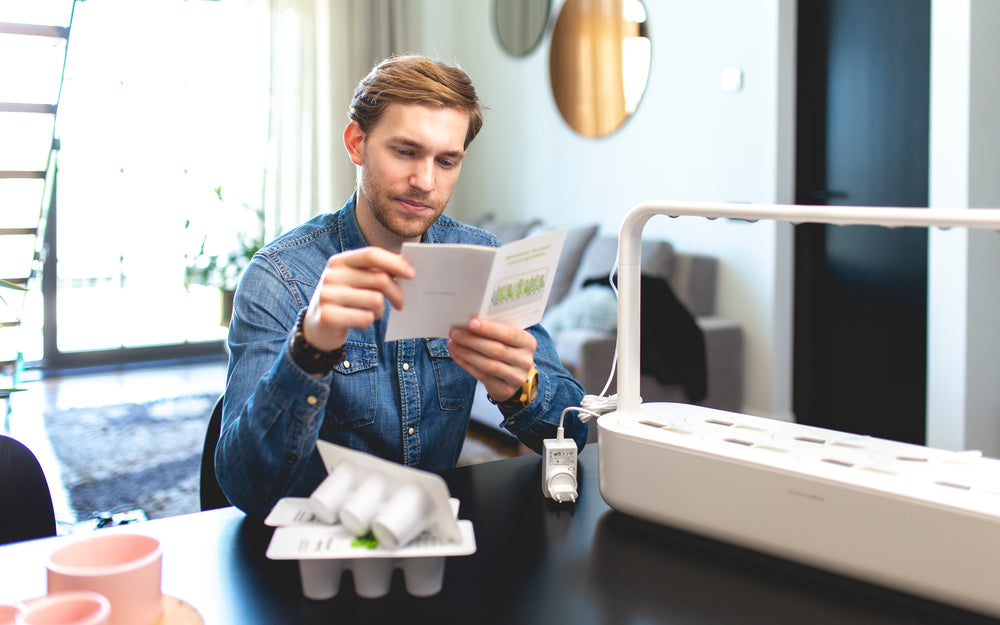 Ahh, the freshness of summer herbs. Their flavor and fragrance can't be beat. They elevate your meals and make your cocktails sparkle, plus they're good for your health. Many herbs are perennials and come again next spring, even in hardy climates.
If you're new to growing summer herbs and feel a little daunted, don't worry - we've got you covered! Planning a summer herb garden is easier than you think, especially when starting seeds in your smart garden. Here's how:
Pick your favorite herbs from our catalog
Not sure where to start? Here are some Click and Grow herbs that are great for starting in your smart garden and repotting later:
Garden Sage
Perfect for livening up your savory dishes - fresh or dried. Goes especially well with pumpkin, potatoes, pasta and red meats.
Plain Parsley
Use in pastas, sauces, salads and meat dishes. Sprinkle on top of finished dishes for a punchier flavor and appearance.
Chives
This herb's milder flavor makes it a good addition to dips and mashed or baked potatoes. You can also use it in fish and seafood dishes, or add it to an omelet.
Lovage
Great for summer soups and stocks, as it can handle long cooking hours and develops amazing flavor palettes when used with other herbs.
Rosemary
The ultimate herb for roasts. Goes perfectly with potatoes and meat.
Thyme
Boasts a slightly sour flavor, kind of like lemon. Delicious with seafood and vegetables and can be used fresh or dried.
If you're interested in growing tea herbs, you can't go wrong with these favorites:
Peppermint
Use fresh or dried leaves for an uplifting, fragrant tea.
Apple Mint
Slightly less minty than peppermint and has an apple-y nuance.
Holy Basil
Mildly sweet and somewhat spicy, holy basil or tulsi tea is often known as 'liquid yoga' thanks to its calming effect on the body.
Set up your smart garden
You're off to a good start! You've decided on your herbs and you're ready to get growing… but first you have to make sure your smart garden is set up. 
When it comes to growing herbs that you plan to repot later, we highly recommend using the Smart Garden 9 or Smart Garden 27. Why? Because they're both great for growing herbs indoors.
If you've just finished growing some plants from a previous cycle, you'll want to clean your smart garden to remove any debris and old water. This'll ensure your new plants start off with a clean slate. A clean smart garden will help keep your plants healthier.
So, once you've cleaned and set up your smart garden, it's time to add some water. Be sure not to overfill the tank. The float should rise so it's level with the surface of the garden - no higher. 
After adding water to your garden, click in your new plant pods, plug in the garden and let it grow.
Transplant outdoors
Now for the fun part! When it comes to transplanting your seedlings outdoors, there's no need to wait until the plant pod's 'lasts up to' date has arrived. As a general guideline, your seedlings are ready for transplanting once they're about 3-inches (7.62 cm) high. Here are some other steps to keep in mind:
Check the weather
Before transplanting your seedlings, It's also important to check that the weather has improved enough and is now suitable for the type of herb you've decided to grow. There shouldn't be any more frosts at night.
Harden off seedlings before planting outdoors
'Hardening' means gradually exposing your seedlings to outdoor conditions, so it doesn't come as a shock to them all at once. 
Before you transplant them outdoors for good, take your young plants outdoors a few hours each day. This'll help them get used to the outdoor elements. Bring them back indoors in the evening. 
Loosen rootbound
In some instances, when you remove your plant pod from the Click and Grow cup, you may notice rootbound (ie. the roots are looking for some more space!) If there is any rootbound, just loosen it carefully to stimulate further growth. 
If there is heavy rootbound, then you may want to trim off some extra roots. This'll help the plant root much faster in its new environment.
Consider where you replant
Plant your seedlings in a new pot or patch of soil at the same depth as it was grown in your plant cup. If you're replanting in a pot, then the pot shouldn't be much larger than the plant pod.
Once you've planted your seedlings outdoors, gently pat down the soil and water it. As your seedlings grow outdoors, take care to prune and water them as often as necessary. Add a name tag so it's easier to remember what you've planted.
For a visual reference, here's a tutorial on how to repot rosemary, one of our most popular herbs:
Enjoy your plants!
Congrats on your summer herb garden! We hope you've enjoyed growing your herbs and we can't wait to see how you use them. Be sure to share your pics in our Facebook community, or use the hashtag #clickandgrow.
Explore more:
Back to all posts