Roasted Turmeric Potatoes & Crispy Kale Recipe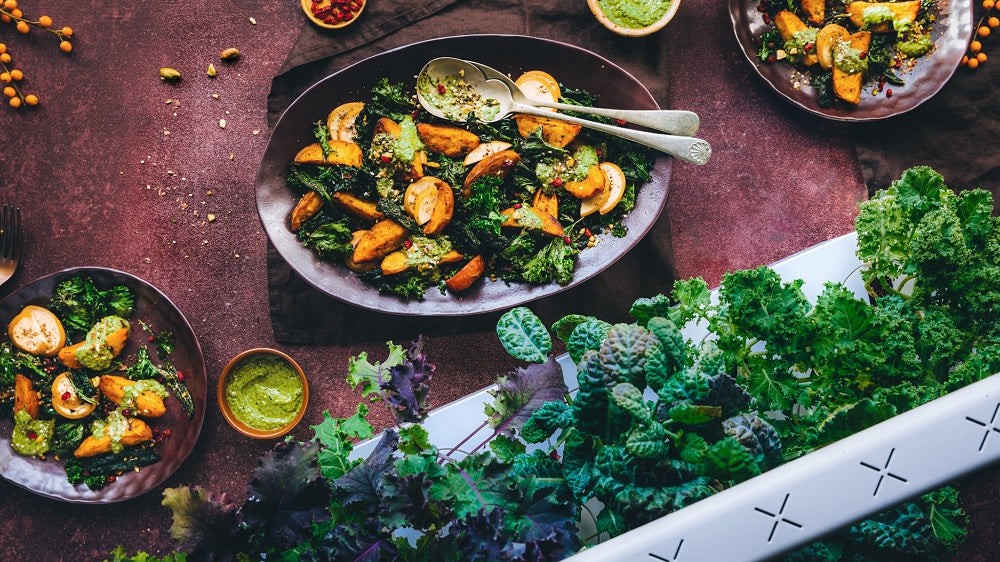 Here's a vegan dish that's as bold and beautiful as it is delicious. Use it as a main or side dish and dazzle your friends and family with flavors and textures of the Middle East!
Roasted Turmeric Potatoes and crispy Kale with green Tahini Dressing and Pistachio Dukkah
Prep time: 20 minutes
Cooking time: 35-45 minutes
Serves: 4 as a main, 6-8 as a side
INGREDIENTS
2 lbs roasting potatoes, skin on

1 ½ teaspoons turmeric

1 ½ teaspoon garlic powder

3 tablespoons olive oil, divided

Sea salt and black pepper to taste

1 lemon, juice and zest

3 cups kale, torn and hard stalks removed

2 teaspoons Za'atar

2 tablespoons dried barberries or chopped dried cranberries (optional)
DRESSING
1 cup raw kale, chopped

½ cup runny tahini

⅓ mild extra virgin olive oil or avocado oil

⅓ cup pistachios, raw and shelled

1 garlic clove

1 teaspoon Dijon mustard

2 teaspoons apple cider vinegar

2 teaspoons Za'atar

½ teaspoon sea salt
DUKKAH
⅓ cup pistachios, raw and shelled

1 tablespoon coriander seeds

1 tablespoon cumin seeds

1 tablespoon fennel seeds

1 tablespoon white sesame seeds

½ teaspoon sea salt

¼ teaspoon sumac
WHAT ELSE YOU'LL NEED
Large bowl

Mini chopper or food processor

Pestle and mortar

Large roasting sheets
INSTRUCTIONS
Preheat the oven to 180°C / 360°F / Gas mark 4 and line a large roasting sheet with parchment paper.
Wash, scrub and dry potatoes, then cut into wedges, leaving the skin on.
In a large bowl, mix 2 tablespoons of olive oil with the spices, lemon juice and zest. Add potatoes and toss until evenly coated.
Spread potatoes onto the prepared roasting sheet and place in the hot oven. Roast for 35-45 mins, until tender with a golden crust.
Meanwhile make the dressing by placing all dressing ingredients into a mini chopper or food processor and pulsing/blending until the consistency of a pesto. Set aside.
To make the dukkah, use a pestle and mortar or mini chopper and process; first coriander seeds, cumin seeds and fennel seeds until finely ground, then add pistachios and process again until coarsely ground.
Transfer to a bowl, add sesame seeds, sumac and salt. Mix well and set aside.
In a large bowl mix 1 tablespoon of olive oil with 2 teaspoons of Za'atar and some sea salt, add the torn kale and massage until softened and coated.
When the potatoes are cooked, remove them from the oven and transfer to a bowl. Cover to keep warm and set aside.
Turn the oven down to 150°C / 300°F / Gas mark 2.
Spread the massaged, slightly wilted kale onto the same roasting sheet and place in the oven. Bake for 10 minutes until lightly toasted and crispy.
Take caution, kale can burn easily, so keep a close eye on it and turn a couple of times while cooking.
Assemble the dish by spreading the crisped up kale on a large platter and arranging the potatoes on top.
Drizzle dressing all over the top and sprinkle with dukkah. Finish with a sprinkle of barberries, if using.
Enjoy!
Recipe and images by Alicja Sieronski
Back to all posts