What Makes Click & Grow Produce So Unique?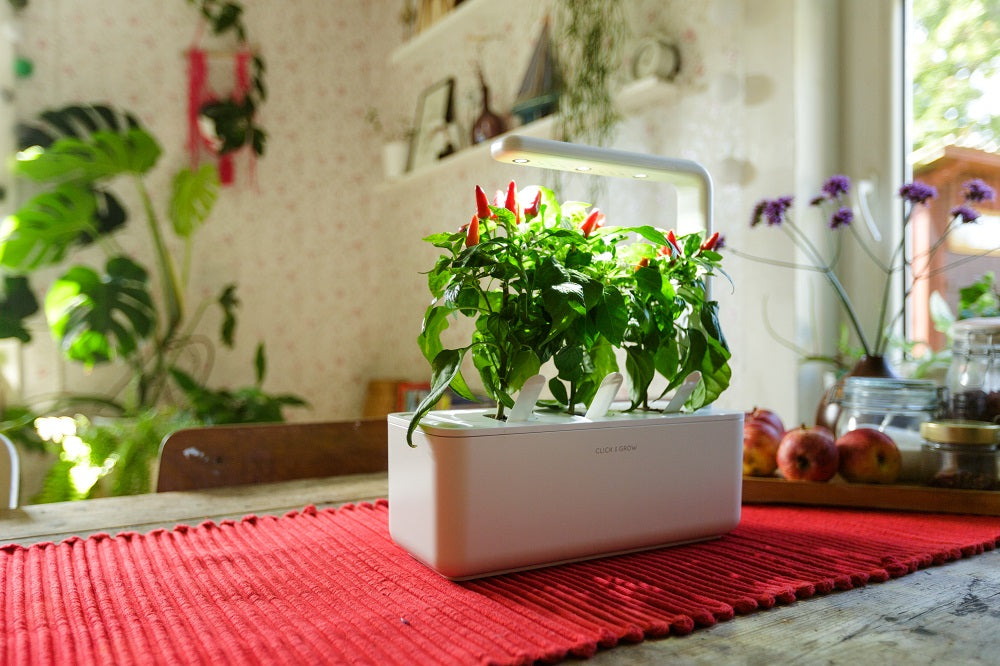 Here at Click & Grow, we believe you deserve the freshest food possible. Using smart soil technology, our smart gardens grow plants that are 100% free from pesticides, fungicides, hormones or any other harmful substances that could threaten your health. 
Our gardening team carries out extensive lab analysis to make sure Click & Grow produce is nutritious and safe to consume. Every smart soil batch is monitored and checked against 500 of the most commonly used chemicals in agriculture before we produce plant pods. Also, all the seeds used in a plant pod are previously tested and only untreated seeds are used for maximum results.
Click & Grow produce is 100% fresh
Fruits and vegetables tend to lose 50% of their healthy nutrients within a week of being harvested. This doesn't bode well for store-bought food that's been harvested early and travelled many miles before it reaches the shelves. Click & Grow produce gives you a garden-to-plate experience. You harvest the food when it's ready and at its optimal nutritional value. The result is the freshest fruits, herbs and salad greens you've ever tasted. 
With many hydroponic systems, plants need to be planted and harvested at the same time because their roots become tangled together. With a Click & Grow smart garden, however, you can easily add or replace any single plant without it affecting the others. This means you can grow herbs or salads in rotation so there is always something fresh to harvest.  You can use up all the produce and nothing goes to waste. Store bought produce, on the other hand, is often thrown out.
Wide selection of edible plants
You can grow seasonal plants, including edible flowers, all year round. Also, you can grow herbs and greens that you love which aren't always available in stores. Examples include most special greens such as green sorrel, shungiku or chard. Further examples are uncommon herbs such as lemon basil, mountain savory and hyssop. You can also grow tea herbs which are difficult to find in stores, such as apple mint, holy basil and cinnamon basil. Click and Grow offers plants that are widely known and most loved by you. At the same time, we enjoy adding plants to our selection to surprise you and to satisfy special needs or requests.
Click & Grow produce contains less nitrate residuals
Our gardeners have found that nitrate residuals in Click & Grow lettuce is up to 7.6 times lower than lettuce grown in hydroponic systems and 8 times lower than in many grocery stores. While nitrates are natural food components, their metabolites and the reactions they produce in the body have raised health concerns. 
Click & Grow produce contains more useful nutrients with high antioxidative activity
Tests also indicate that antioxidative activity in fresh Click and Grow lettuce is 1.8 times higher than store-bought lettuce in plastic boxes and 3 times higher than lettuce grown in a hydroponic system. This is possible due to the way smart soil technology feeds plants. We have a unique smart soil created for every plant species. This is also why the taste of greens and herbs is more intense than in the store bought produce. You can enjoy our edible plants knowing they are super nutritious. To give you some examples: 
- One cup (10gr) of arugula provides 12% of an adult's recommended daily allowance (RDA) of vitamin K and 14% of vitamin A. 
- One cup of green chard's baby leaves (36 gr) provides 16% of an adult's RDA for vitamin A, 14% for vitamin C and 332% for vitamin K.
- One cup (20 grams) of red kale leaves provides 7% of an adult's RDA of vitamin A, 26% of vitamin C and 90% of vitamin K. 
- One cup of romaine lettuce baby leaves (35gr) provides 82% of an adult's RDA for vitamin K and 14% for vitamin A.  
Click & Grow produce is free from BPA packaging
Bisphenol A (BPA) is a synthetic compound associated with numerous health complications. Unfortunately BPA can be found in many plastics and canned food containers, such as those you find in grocery stores. None of our products contain BPA. We're proud of the fact that our packaging is now more sustainable than ever!
For further reading, check out our blog posts:
The difference between Click & Grow and hydroponic systems
Food Safety: 6 Reasons to Grow Your Own Food in an Indoor Garden
Back to all posts